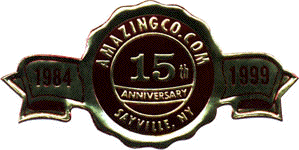 Welcome to Amazingco.com!
AmazingCo. combines the elements of vintage and newer comic books, action figures, toys, trading cards, and a whole lot more. We also have an assortment of authentic prehistoric American Indian projectile points. Take your time to browse through all of our unique catagories. We are pleased to offer our products on the Web and hope you enjoy your visit. Once again, welcome.
The buttons on the left are links to our different catagories. Click any of them, and a new page will come up here with our list of products in that section.
Check out our new search feature on the About Us page!
Join our mailing list for new listings!
Notice! This site is under construction and in the process of adding lots of new and exciting products. Be sure to bookmark us and come back regularly as we expand!