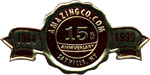 Beatles Collection
I want to start this section off with a wonderful collection of Beatles albums. I bought this collection off of a collector in 1983. He was a Beatles fanatic, and bought TWO of every import album he could find. He kept one set, and sold me the other. These albums are all imports that were bought in the late 1970s to early 1980s. All are in mint, never played, condition (I did play two records once each) with anti-static sleeves on the records themselves, and plastic bags on the albums. All the liner notes, photos, and accessories (import albums contained many items that the American versions did not) are there on every album, all in mint condition. As I said, this collector was a fanatic. There are 72 albums with at least ten of them double-albums, many on colored vinyl, which are listed below. Also, six single 45's, with one on colored vinyl. Many are on Apple labels, along with Capitol, Parlophone, EMI Odeon, and EMI. Countries represented are France, Japan, Germany, Holland, Canada, Austrailia, Brazil, England, and USA. Only a handful are English and American albums. All else are other imports.
The colored vinyls consist of the following:
This is a fantastic collection for the investor, or just another Beatles fanatic out there. This is NOT cheap. Serious parties can email me for more information.