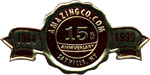 Action Figures and Toys
Lots of neat action figures and cool toys here. Most figures will be in Mint condition on Mint or Near Mint cards. I wouldn't get into the numeral grading, because as they say "a picture is worth a thousand words". I will give a decription along with the picture and mention any defects.
The first grade represents the figure, the second grade represents the card.
Please add $5.00 shipping on all orders. All shipping charges include insurance.